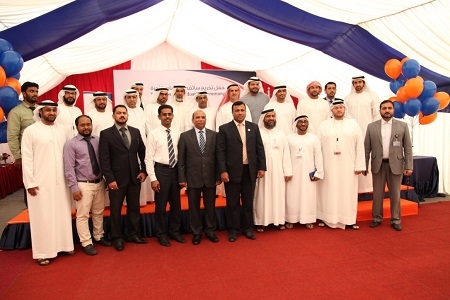 The first batch of passenger transport drivers graduated at the newly launched training academy of Emirates Driving Institute on Tuesday, February 20, 2018.
The Roads and Transport Authority (RTA) of Dubai had in December 2017 signed an agreement with Emirates Driving Institute for privatising the training of passenger transport drivers.
The agreement stems from RTA's keenness to adopt the best practices and boost public-private partnership. It aims to enhance the quality of training through continuous improvements and new programs for supporting passenger transport activities in the Emirate of Dubai.
Mr. Abdullah Ibrahim Al Meer, director of drivers' affairs, the RTA's Public Transport Agency; Mr Ahmed Hashim Bahrozyan, CEO of the Licensing Agency RTA; Mr Amer Ahmed Belhasa, Chairman, EDI Group & Vice Chairman, Belhasa Group, were present at the ceremony today.
The key objective of privatizing Drivers Training and Qualification Center is to improve the quality of training by using state-of-the-art technologies. It also enables full migration from the conventional training stage to the smart and virtual training era.
Broadening the privatisation of training centers will accommodate the increasing numbers of drivers, while ensuring the deployment of competent drivers in passenger transport activities, and meeting the growing demand for mobility service in Dubai.
The experienced EDI lecturers train the passenger transport drivers in the newly-formed training academy that has the state-of-art lecture halls, which are equipped with high-end presentation systems, laser firefighting simulator, taxi meter simulators and also has the latest version of mapping systems amongst other facilities.
Mr Amer Ahmed Belhasa, Chairman, EDI Group & Vice Chairman, Belhasa Group, said, "The privatisation of drivers training & qualification sector by RTA's Public Transport Agency is consistent with the UAE's drive of upgrading the efficiency of services delivered to community segments across the board. Such improvement warrants subjecting drivers to training and qualifying them to keep pace with the current business processes.