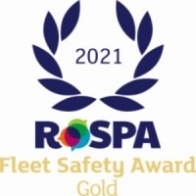 Emirates Driving Institute, based in Dubai, UAE is celebrating its success after landing an internationally recognized award for demonstrating high health and safety standards.
Emirates Driving Institute has received a RoSPA Fleet Safety Gold Award 2021 for working hard to ensure our staff and customers get home safely to their families at the end of every working day.
Organizations receiving a RoSPA Award are recognized as being world leaders in health and safety practices. Every year, nearly 2,000 entrants vie to achieve the highest possible accolade in what is the UK's longest-running H&S industry award.
Mahmood Al-Khamis, Director - Overseas Projects, Emirates Driving Institute said, 'This is a great achievement for Emirates Driving Institute as we are strongly committed to providing high standards of driving training to our customers in becoming safe motorists on the road and contributing to a safe driving environment in the UAE. Being awarded by RoSPA is an encouragement of our efforts towards safety and a reward for our staff members who have successfully contributed over the years to create our brand name. This award inspires us to strengthen our reputation as the leading learner and driver training organization in the Middle East.
For more information about the RoSPA Awards, visit www.rospa.com/awards