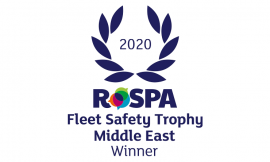 Emirates Driving Institute has received a RoSPA Fleet Safety Trophy for working hard to ensure its staff, customers, suppliers, contractors, and partners get home safely to their families at the end of every working day.
Organizations that receive a RoSPA Award are recognized as being the world-leaders in health and safety practice. Every year, nearly 2,000 entrants vie to achieve the highest possible accolade in what is the UK's longest-running H&S industry award.
Following the principles of the RoSPA National Safe Driving Award scheme, these awards are judged on verifiable historical performance data of accidents and the identification of an effective, cohesive corporate road risk management program.
Read more 
here