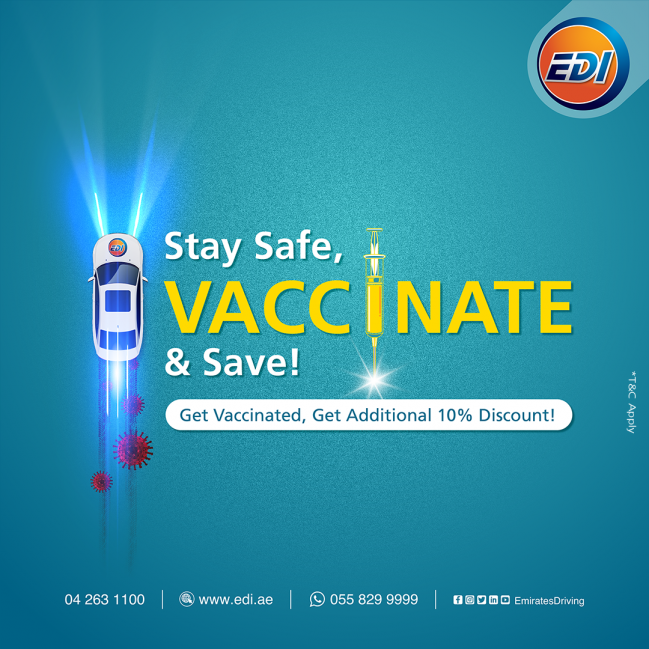 Emirates Driving Institute, based in Dubai, is joining hands to support the Vaccine Drive, UAE's collective national effort in fighting off the COVID-19. By launching the approved COVID-19 vaccinations in the UAE, the National Emergency Crisis and Disaster Management Authority (NCEMA) have urged the UAE residents to get free vaccination at the health centers. Today, UAE is the second country globally in the race for vaccination & is working rapidly towards a COVID free country.
In an effort to brace the initiative of the UAE health authorities and protect the community, Emirates Driving Institute is honored to reward and encourage people who get vaccinated by offering a vaccination discount on all its driving courses.
The Stay Safe, Vaccinate and Save offer will provide a further 10% discount on top of the ongoing offers to those who vaccinate and register for any driving course till March 31st 2021.
Amer Belhasa, Chairman – EDI Group & Vice Chairman – Belhasa Group of Companies said:
"We are fortunate to be a part of a great leadership who has prioritized the health of the UAE residents and worked tirelessly in battling against the pandemic. At Emirates Driving Institute, it is our responsibility to protect our staff and customers' wellbeing against COVID-19 and this initiative is a reiteration of our commitment towards building a safe community. We congratulate the leaders of UAE, the UAE health workers in successfully delivering over 1 million vaccinations till today to fight against COVID-19. I urge you to get vaccinated and together we will control the disease and live in a safe community. "