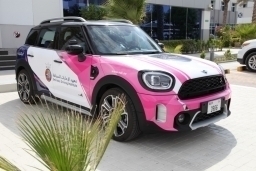 EDI is proud to announce the expansion of its luxury fleet with the new Mini Cooper S 2021 within the new Mini Platinum Driving Course for female customers.
The new Mini Platinum Driving Course launched by Emirates Driving Institute aims at supporting women in becoming safe motorists on the road as their mobility needs rise at pace.
With fast-track training & tests, easy booking & personalized services at fixed-cost, the Platinum customers have learned essential driving skills on their favored luxury training vehicles ranging from the luxurious Mercedes, sporty Range Rover, electric Tesla, and more vehicles to choose from.
Learn more about the Platinum Driving Course here.