Why choose edi image block - Home Page
EDI launches its e-lecture service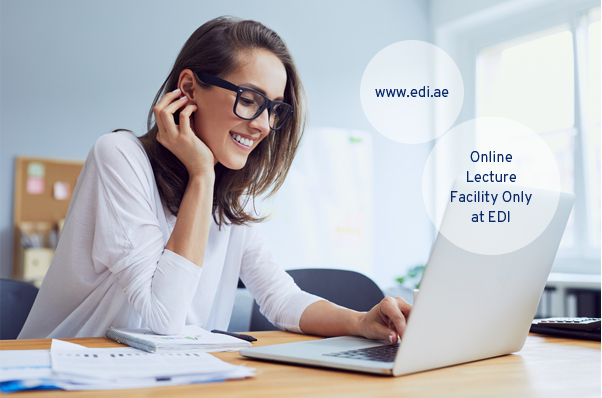 For the greater convenience of students, Emirates Driving Institute is pleased to launch its E-lectures (online lecture) service. You may click here to check the user guide on how to use E-lectures. You may click here and give your credentials to start your E-lectures.
Emirates Driving Institute, the largest and most successful driving institute in Dubai and the Middle East, has initiated the move to extend greater convenience to its students.
The online lectures consist of videos, quiz and the facility to ask questions. Students can take the E-lectures via the EDI website, www.edi.com, by keying in their registration details.
The e-learning facility (online lectures) is an addition to EDI's current facility and services for attending the lecture in person. EDI will still continue to offer complete lectures at the main testing and training centers in Al Qusais and Al Quoz. Attending online or classroom lectures depends upon the student's convenience and time. The student can opt for either of the two options.
Currently, students can take the below-mentioned lectures in English using the e-Lecture service. Soon lectures in other languages will also be introduced.
| S.No | Category | Language | Lectures available online |
| --- | --- | --- | --- |
| 1 | Light Motor Vehicle (LMV) | English, Arabic & Urdu | All 8 lectures |
| 2 | Motorcycle (MOT) | English, Arabic & Urdu | All 8 lectures |
| 3 | Heavy Vehicle (HVT) | English, Arabic & Urdu | All 8 lectures |
| 4 | Heavy Bus (HVB) | English, Arabic & Urdu | All 8 lectures |
| 5 | Light Bus (LB) | English, Arabic & Urdu | All 8 lectures |
| 6 | Forklift (LFL/HFL) | English, Arabic & Urdu | All 2 lectures |
| 7 | Shovel (SHO) | English, Arabic & Urdu | All 2 lectures |